• Removable charging plates for 4 battery types: Cannon LP-E6N, LP-E17, LP-E8 and Sony NP-FW50
• 2-bay charger, 2x0.5A, 1x 1A
• Digital display shows real charging status
• USB Type-C port, with maximum input 5V 2.1A
• Automatically cut-off after fully charged
• 0V activation function revives your camera battery
• Multi-protection for over-charge, over-discharge, over-temperature and soft start
• Compact size, easy to carry out.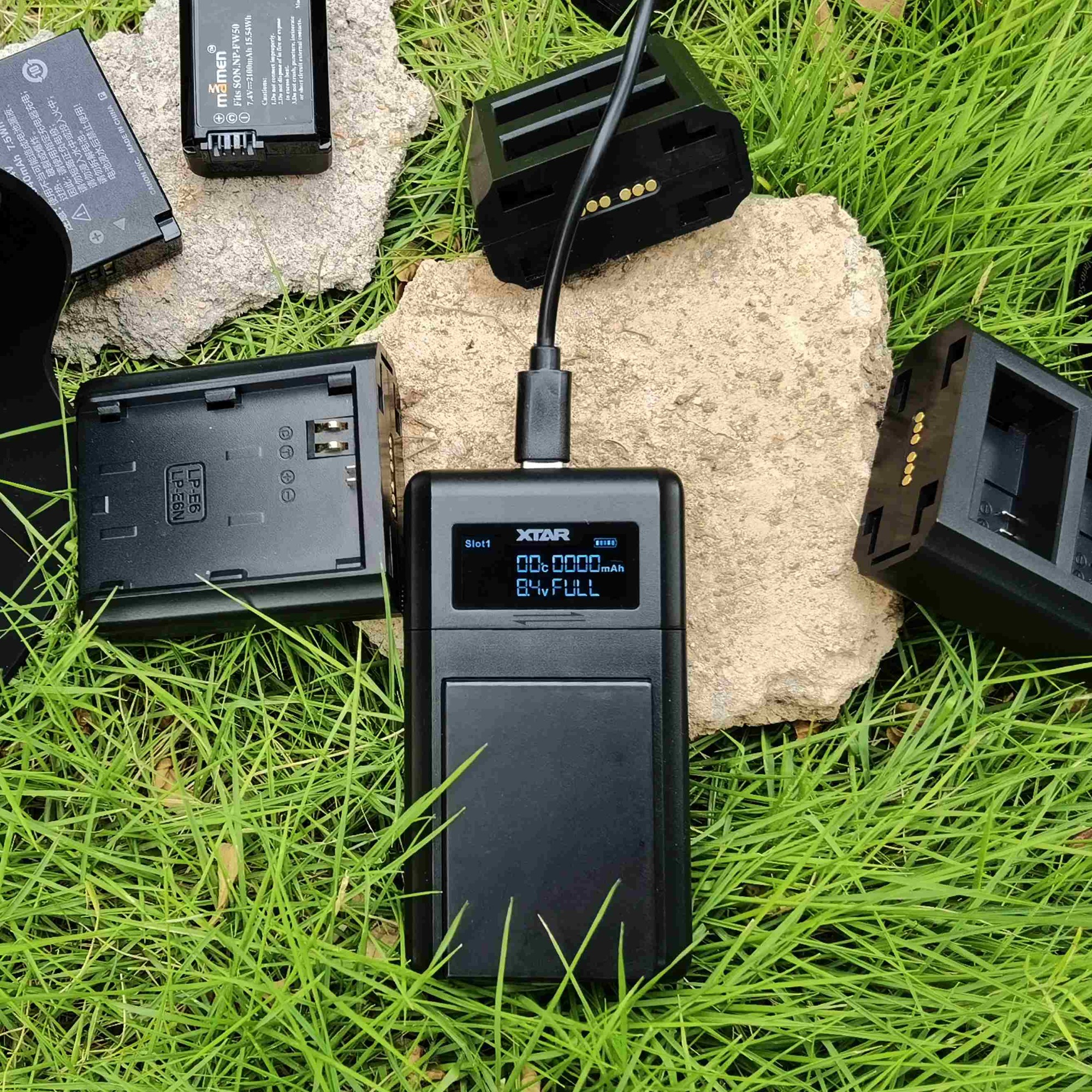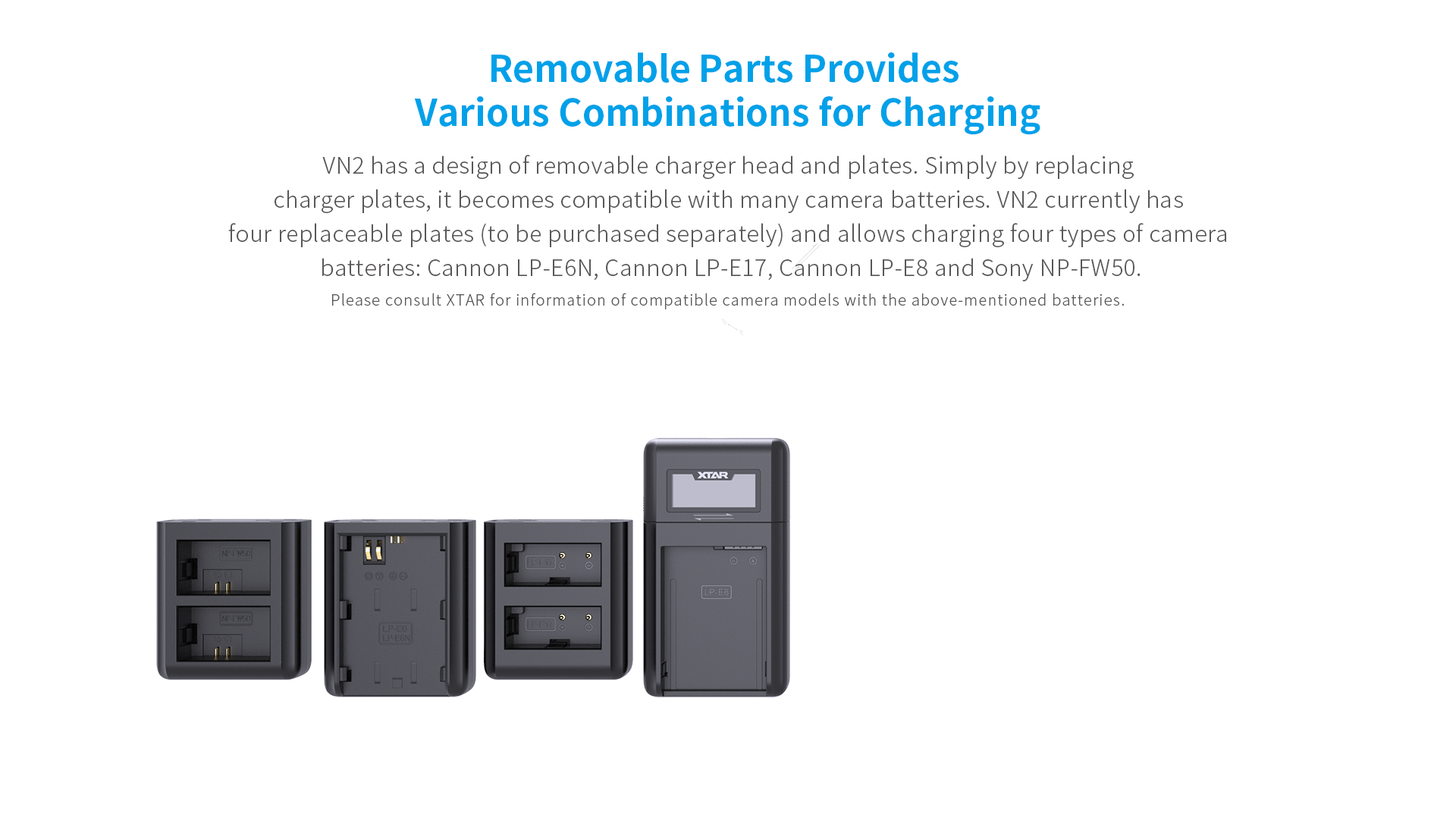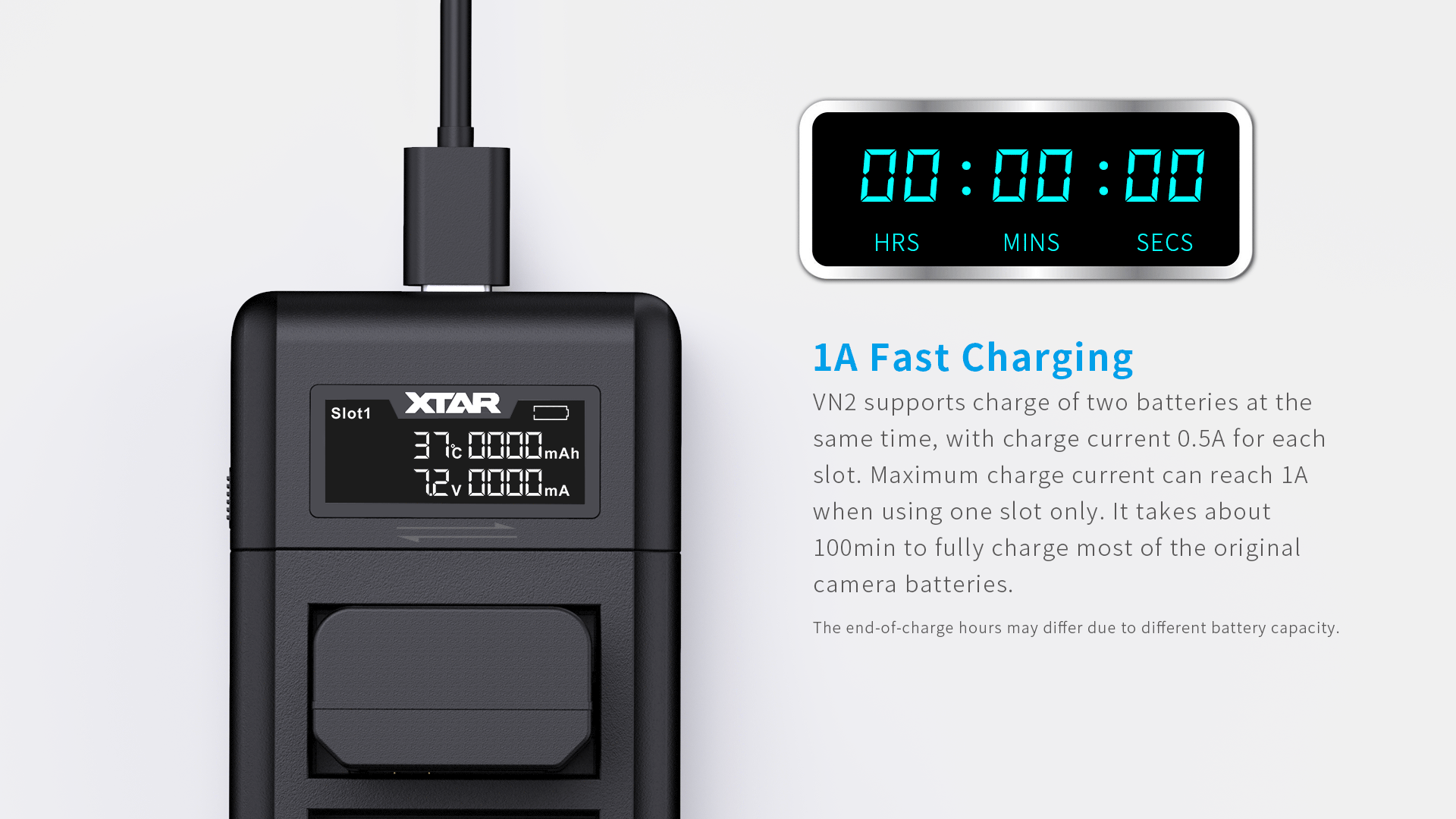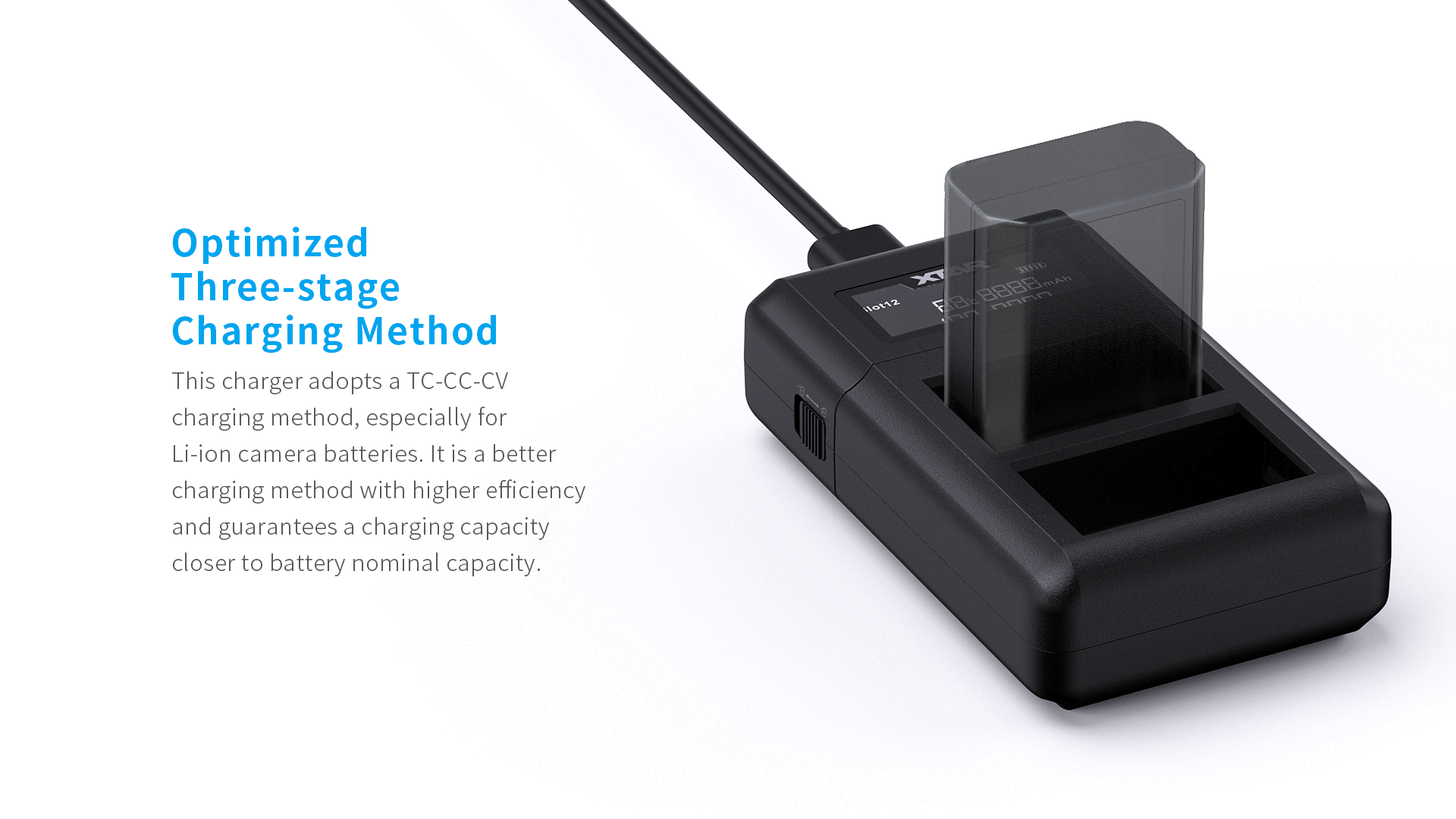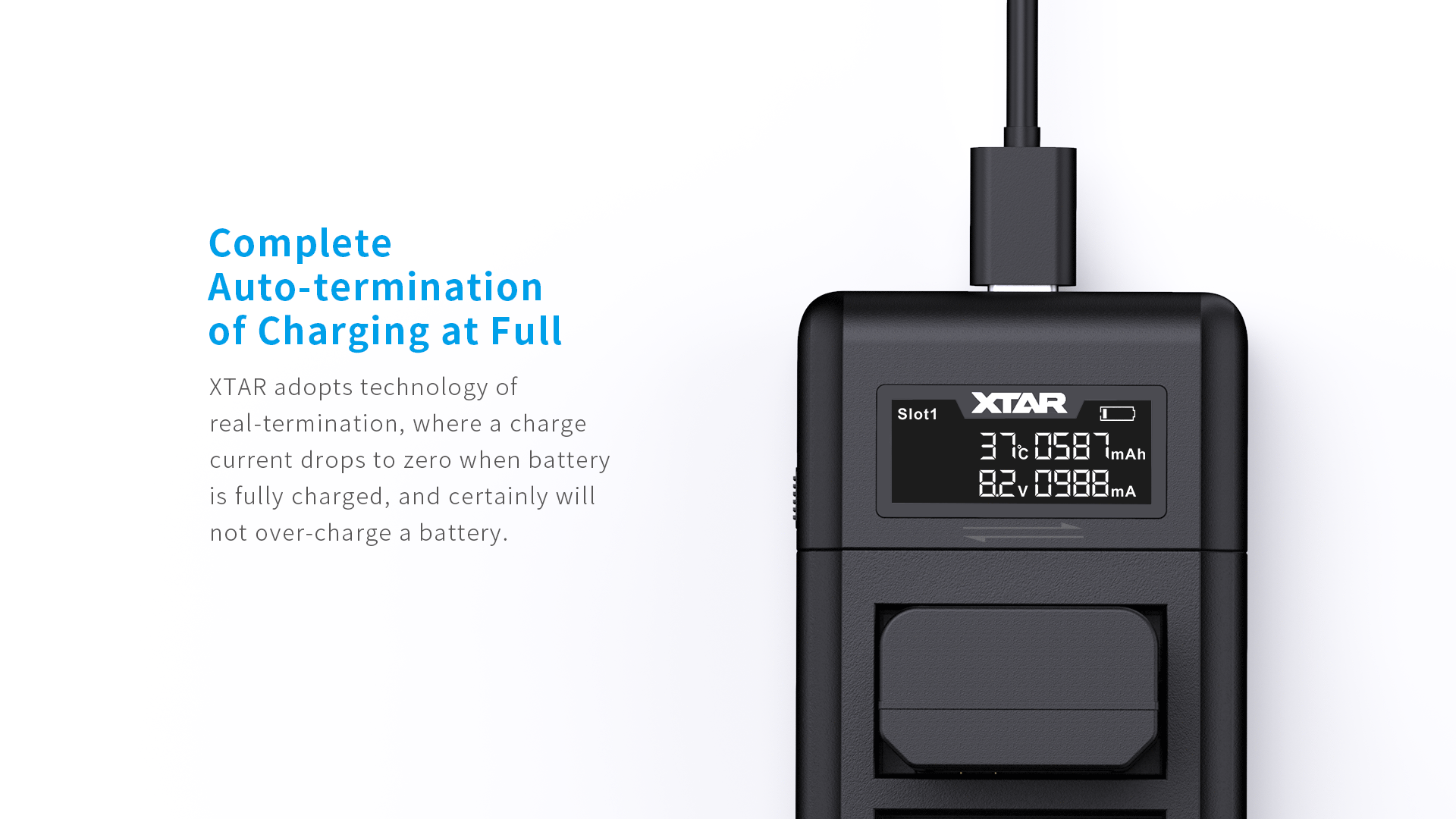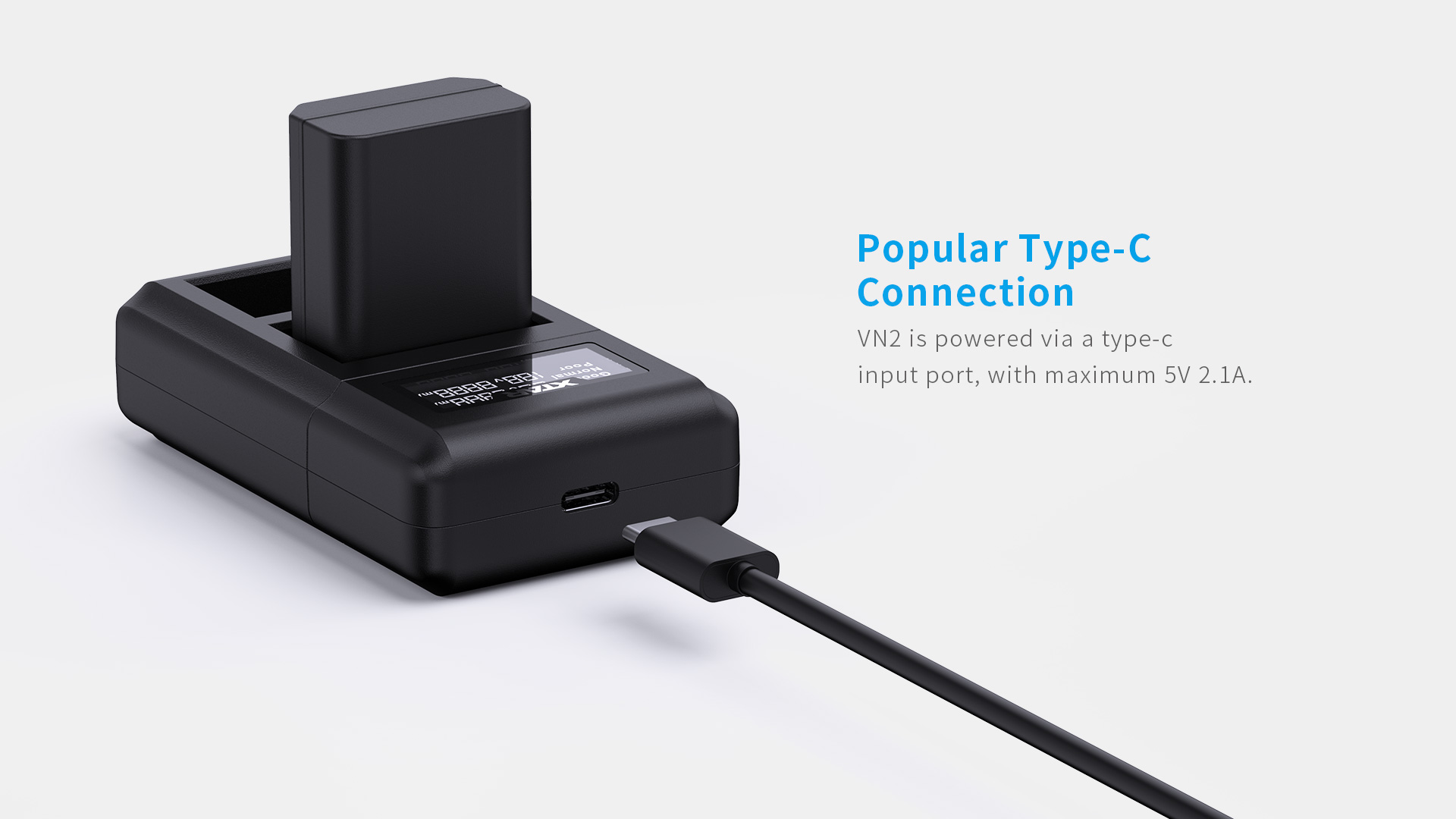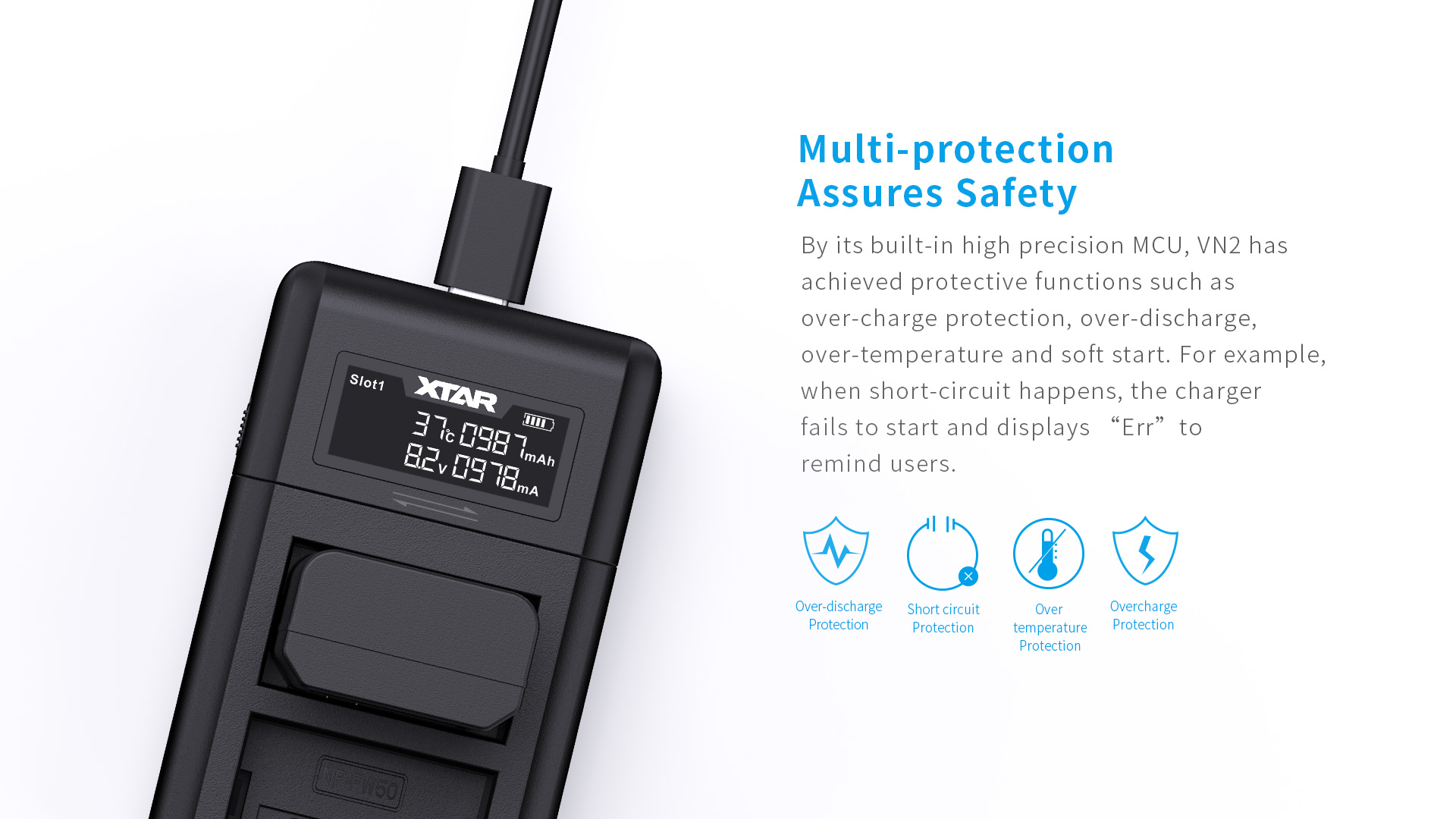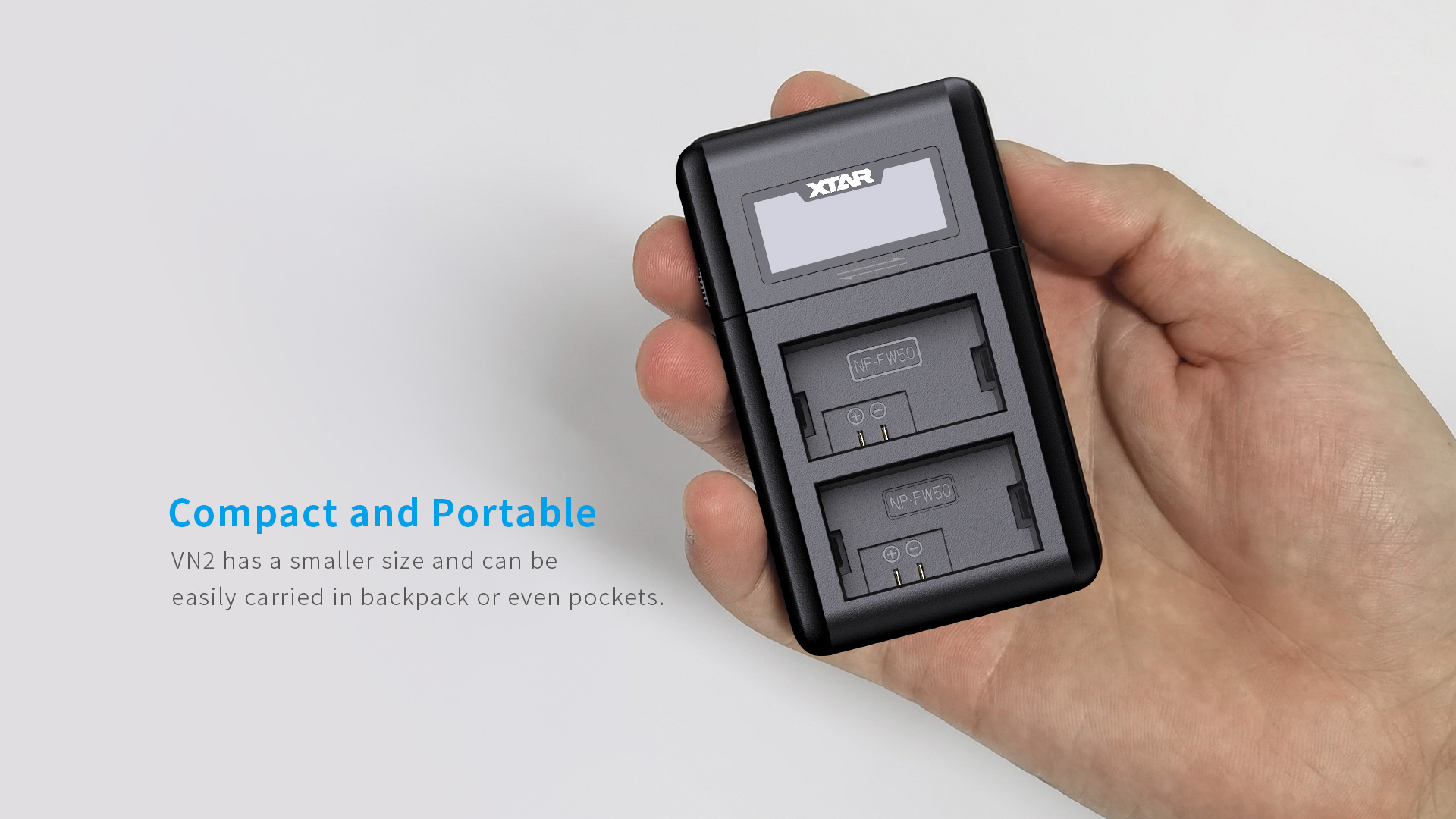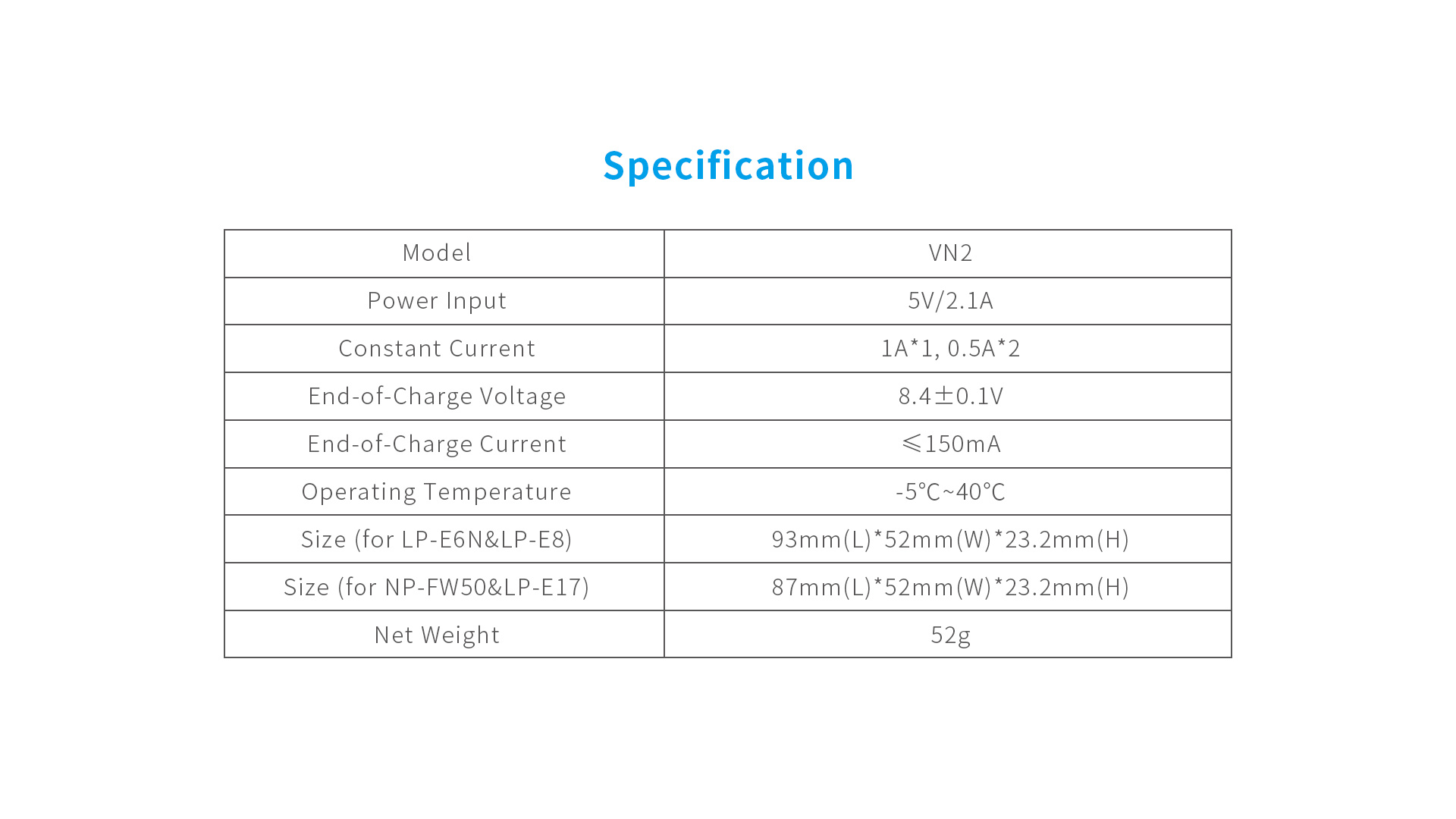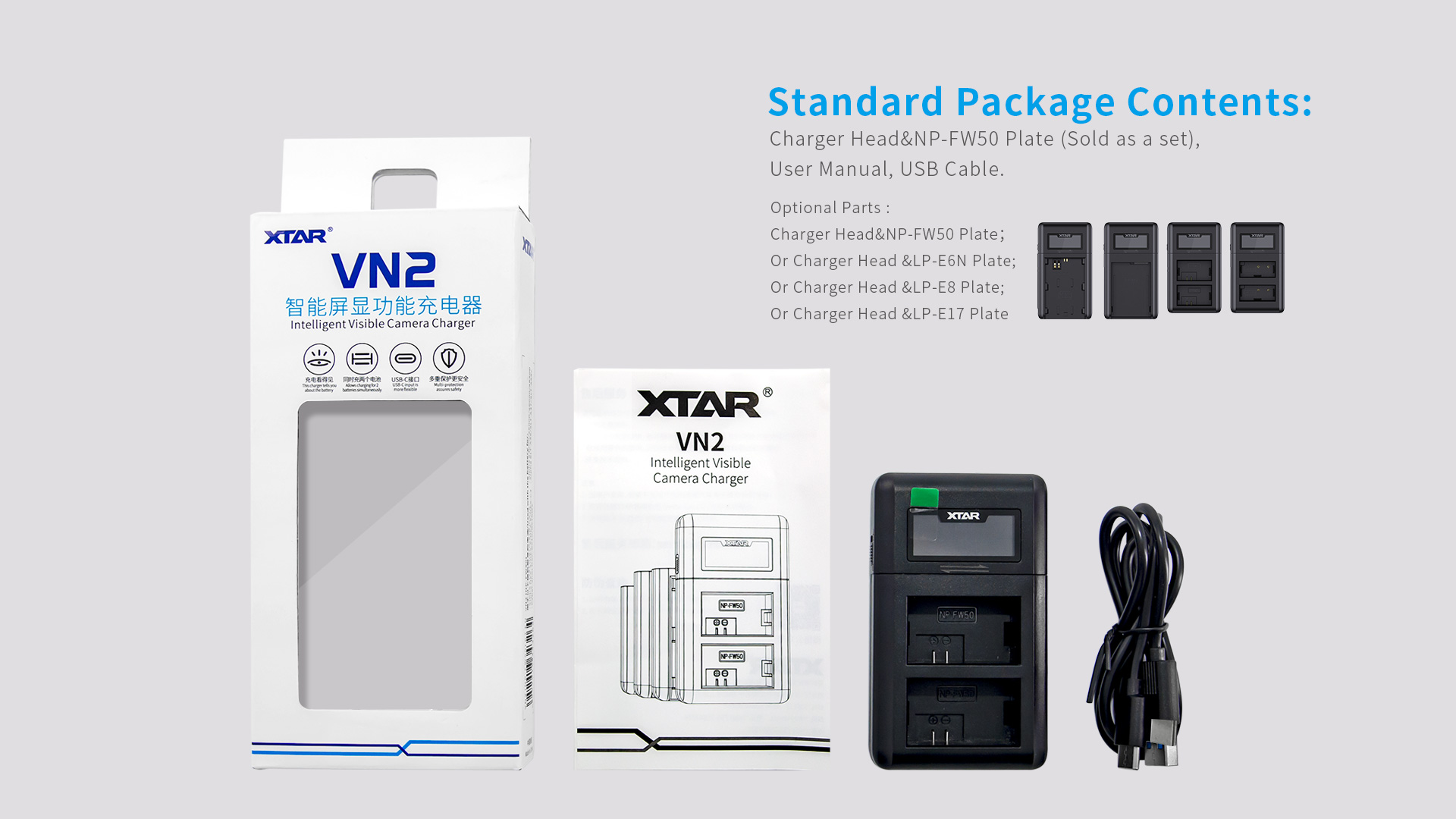 FAQ
1.When will my VN2 charger be delivered?
All VN2 Charger will be sent from Shenzhen warehouse by 4px, and it will take 5-20 working days to arrive at you.
2.Warranty Period?
XTAR provides a 2-year warranty globally for VN2 charger (adapter and other spare parts excluded).
3. Can VN2 activate the over-discharged camera batteries like other XTAR chargers do?
Sure, VN2 can definitely bring your over-discharged batteries back to life.
4. What are the VN2 advantages of three-stage charging compared with traditional methods?
Unlike other chargers which still uses pulse charging technology that fluctuates electrical currents going into the battery, we use a three-stage intelligent charging protocol, which greatly reduces battery wear and improves battery life expectancy.
5. XTAR SN4 VS VN2 Charger?

6. ALL Camera Models SN4 & VN2 Chargers supported ?
Total Eleven Dock Models (Battery Models) → Supported Camera Models (Six Camera Brands- Canon, Sony, Nikon, Panasonic, FujiFilm, Leica)
Canon
Canon LP-E6/E6N/E6H
EOS 90D / EOS 80D/ EOS 70D ...
EOS R6/ R5 /Ra/ R
EOS Mark 7D II /EOS 7D / 70D
EOS Mark 6D II/ EOS 6D
EOS 5D Mark IV/ III/ II
EOS 5DS/ 5DS R
XC15/ XC10
Canon LP-E8
EOS 550D/ EOS 600D/ EOS 650D/ EOS 700D
Canon LP-E17 /E17A/ E17B/ E17C
EOS M6/ M6 Mark II/ M5/ M3
EOS 850D/ 800D/ 760D/ 750D/ 77D/ 9000D
250D/ 200D/ 1300D/ RP
Rebel T6/ T6i/ T6s/ T7i/ T8i/ SL2/ SL3
Kiss X8/ X9/ X9i/ X10/ X10i/ X80/ 8000D
Sony
Sony NP-FZ100
ILCE A7M IV/
A7M III/
A7S III/ A7C/ A7 III
ILCE A7R IV/ ILCE A7R III
ILCE A9/ A9 II/ A9r/ A9S
ILCE A6600
ILME FX3
Sony NP-FW50
ILCE 6500/ ILCE 6400/ILCE 6300/ ILCE 6000
/
ILCE
5100/ ILCE 5000
ILCE 7S/ ILCE 7R
/
ILCE 7S II / ILCE 7R II
/
ILCE 7SM II / ILCE 7RM II
NEX-C3/
F3/
3N/
3D/
3K
/
NEX-5C/
5N/
5R/
5T/
5D
/
NEX
6
/
NEX
7
DSC-RX10M4/ DSC-RX10M3
/
DSC-RX10M2/
RX10
a55/
a37/
a35/
a33/
a3000
Sony NP-F550/F570/F770/F970
Sony
CCD-TR(HI8) Series
: CCD-TR 1/3/57/ 67/ 76 /87/ 97/ 200/ 215/ 300/ 416/ 500/ 516/ 517/ 555/ 716/ 818/ 910/ 917/ 930/ 940/ 3000/ 3300
Sony
CCD-TRV(MINIDV) Series
: CCD-TRV 101/ 119/ 15/ 16/ 215/ 25/ 3000/ 315/ 35/ 36/ 37/ 4/ 41/ 43/ 46/ 51/ 517/ 57/ 58/ 615/ 62/ 65/ 66/ 67/ 68/ 715/ 716/ 72/ 720/ 75/ 78E/ 81/ 815/ 82/ 85/ 87/ 88/ 90/ 91/ 93/ 95/ 98/ 99
Sony
INFOLITHIUML series
: BC-V615/ DCM-M1/ DCR-TUR47E/ MVC-CD1000/ PLM-100/ VCL-ES06A
Sony CCD-SC(HI8) Series:
CCD-SC 5/ 55/ 65
Sony
DCR-TR7 series
: DCR-TR 7000
Sony DCR-TRV(MINIDV) series : DCR-TRV 5/ 7/ 9/ 103/ 110/ 120/ 1130/ 210/ 310/ 315/ 320/ 330/ 340/ 350/ 360/ 460/ 460E/ 480/ 480E/ 510/ 520/ 525/ 530/ 720/ 730/ 740/ 820/ 830/ 840/ 900/ 950
Sony
DCR-TV series
: DCR-TV 900/ 900E
Sony
DCR-VX(MINIDV) series
: DCR-VX 700/ 1000/ 2000/ 2100/ DSR-PD150/ FDR-AX1/ HDR-AX2000/ HDR-FX1/ HVR- HD1000U
Nikon
Nikon EN-EL15
D7500/
D7200/ D7100/
D7000
D850/
D810/
D810A/ D800/
D800E
D780/ D750/
D610/
D600/
D500
Z7/ Z6/
Z5/
V1
Panasonic
Panasonic DMW-BLK22
DC- S5/ S5K
Fujifilm
Fujifilm NP-W235
GFX50S II/ GFX 100S/ X-T4
Fujifilm NP-W126/126S
X-Pro 3/ Pro 2/ Pro 1
X-T30/ T20/ T10/ T3/ T2/ T1
X-E4/ E3/ E2S/ E2/ E1
X-H1X/ S10/ M1
X-T200X/ T200/ T100
X-A20X/ A10X/ A7/ A5/ A3/ A1
X100F/ X100V
Leica
Leica BP-SCL4
SL/ SL2/ Q2/ SL2-S