By Admin |
10
April 2023 |
0
Comments
Unboxing and Review of XTAR 150W Portable Solar Panel
About the XTAR solar panels, they are not as well-known as the brands Jackery, Bluetti, Renogy, etc, but they did a good job on their first portable solar panel - SP100.
I've been working with
them in the past they sent me that 100-watt
panel
.
I was amazed by it and I'm
very pleased with it
.
Linda and I have
carried it on many trips and we
always have it with us
,
so when they
contacted me about their
SP
150 I
was
excited by it
because I want
ed
to see
if it was as capable as the
SP
100
and I'm not disappointed at all
. A
ctually
,
it put
out
150 watts or more
. In this article, you
'
ll see the unboxing and solar conversion review of this SP150 solar panel.
Unboxing of XTAR SP150
L
et's look at the
details of this one so you can see what
it's like
.
It's got the same basic layout as other panels. This one is considered to be waterproof, you can leave it out in the rain. And instead of having just a magnet at the top, it actually has one snap on either side which holds it securely, so when you're trying to put this in and out of your vehicle, it's not flopping open on you. There's a velcro on the bottom of the fold-up panel that holds the bottom together so it doesn't come apart that way either. I think this design is pretty handy.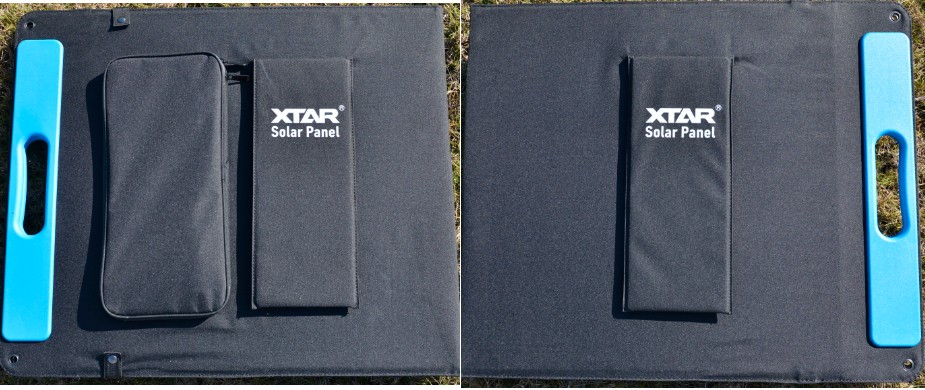 It's got the typical velcro-held kickstands on it. And I've noticed that there are two big pieces of velcros for one kickstand, not a tiny little strip like some other panels have. It's not going to wear out as fast. This design makes the kickstands
always
close firmly. You do have to put your fingers in between to get it open. And these kickstands are held by elastic stick, which is set up so the panel will tilt back really flat without having to disconnect it in any way. It's nice and thick and it's got a lot of nylon in there, so that's going to last a long time.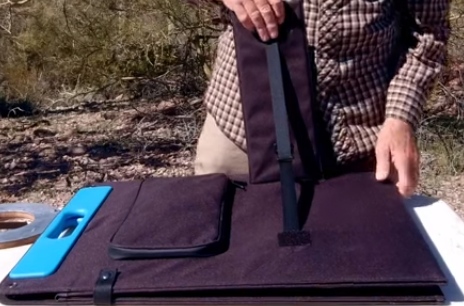 Also, I like that the side pocket has a double zipper. That means You can zip that up pretty tight and have the cord come out the bottom of the pocket so that in rainy conditions the rain is going to slide down instead of getting into the panel. I actually prefer that.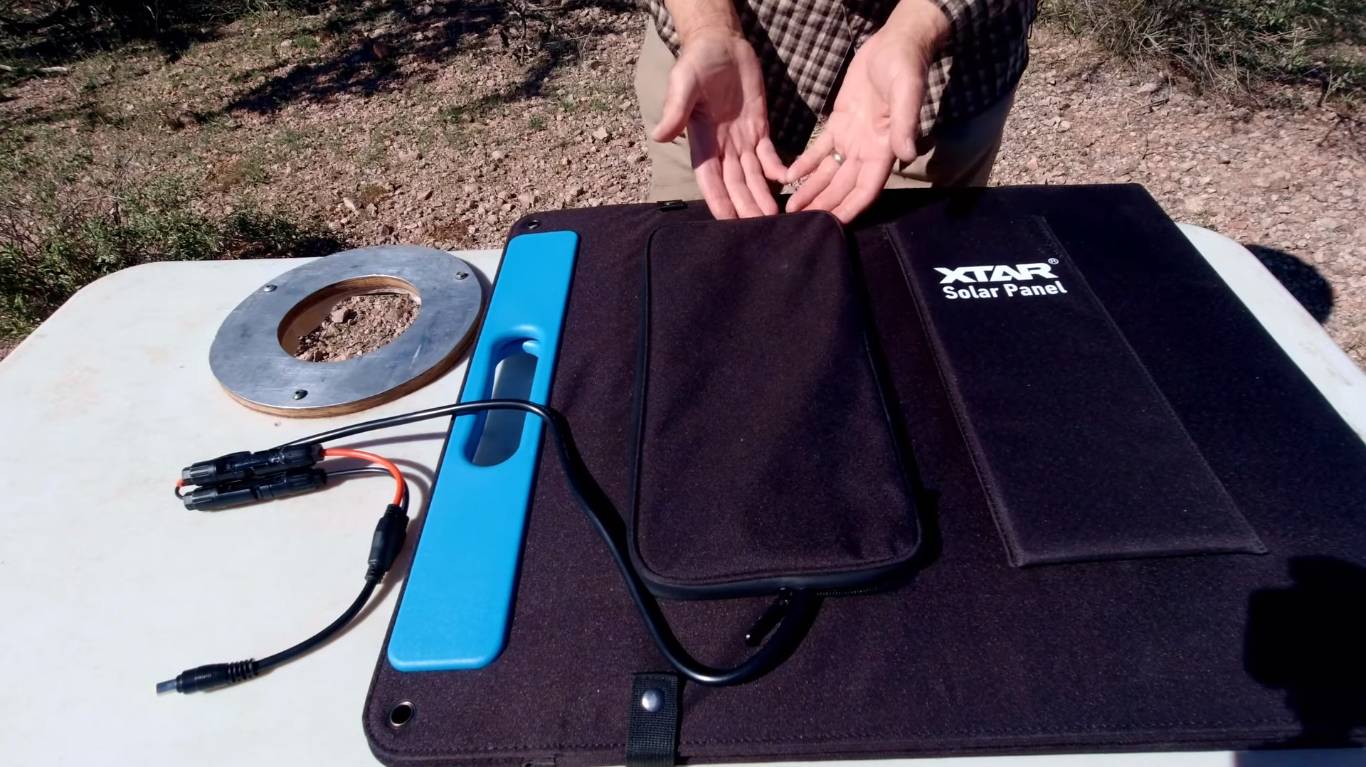 It comes with an MC4 connector, a pigtail with an 8mm barrel on it, and an adapter because some power stations have this little 5mm or 5.5mm whatever barrel connector on it. I like the MC4 because you can hook this up to anything by just purchasing whatever adapter you need. Maybe you need an SAE or an xt60 or something for your power station, this can be purchased on Amazon, super easy and super cheap.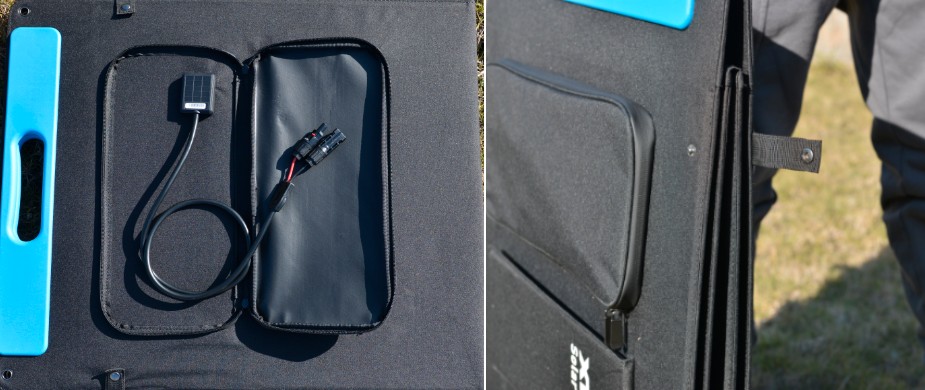 The cord in the slide pocket is short and it looks to be about four or five feet. I
t's another thing that you
can just get from Amazon
. It
is just an
extension cord for this
or any other solar panel for that matter
.
XTAR made some improvements on the SP150, compared with the SP100 solar panel. You can see the difference on the surface of the solar cells.

XTAR company explained that this is ETFE laminated technology and high-end monocrystalline solar cells. Dual protection to avoid Hot Spot damage, and paralleled PV modules to reduce the shading effect. it's not as critical if you get a shadow across one of the cells. it's got a bypass that works around that. And you can see that the cells are different and their technology has gone ahead and I always like to see a company that is still advancing.
The protective coating on the panel is good for 25 years, and we just cleaned it with a little mild soap and water or a little Windex or something.
Solar Conversion Test & Comparison with SP100
T
his is the morning sun in Ajo
,
Arizona in February
. I tested both the SP100 and SP150 to compare their solar conversion performance.
The SP100 got 102 watts! And it is a 100-watt-rated panel. That
'
s the reason why I never leave home without it for a couple of years.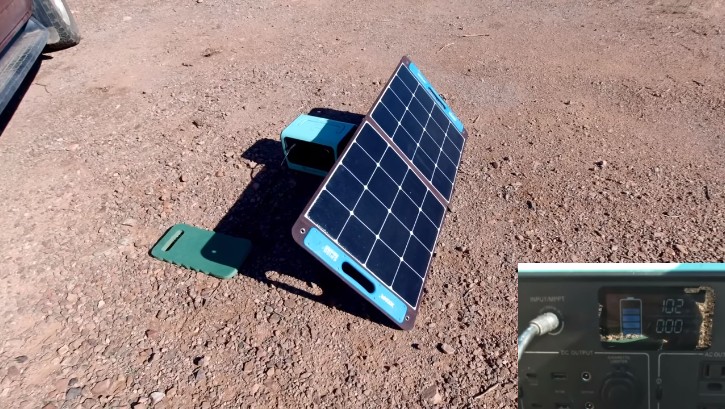 For
the new
XTAR
SP
150 150
-
watt solar panel
,
you can see it's putting out
151 Watts
. T
hat's not unusual for Xstar
.
I set it up and at first it
was laying too flat into the sun and it
was putting out 130
w,
so I tilted it up to
point it at the side and immediately
went to 150
w
and I was so pleased with
that
. G
ood panel
!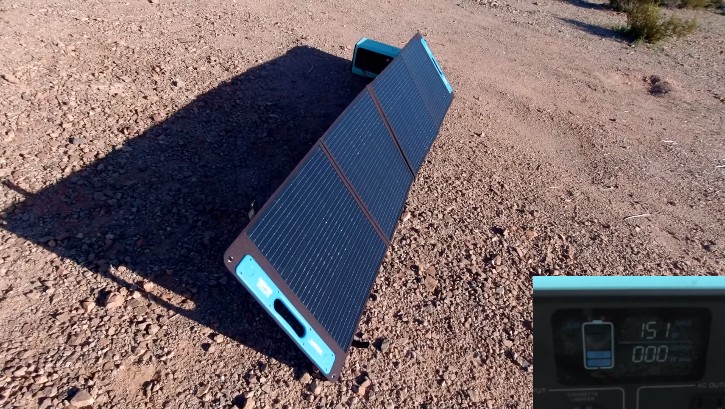 To the best of my knowledge there are no other panels out there that perform like the XTAR panels do you buy a 200-watt panel and you might be able to get as much as 170 Watts out of it. This panel I've already gotten over 150 watts out and that was with Morning Sun, so this panel might put out that much also.
Conclusion
I have their Xstar 100 in 2021 and it puts out 100 Watts or very close to it, 98.99W, as I've proved in my
review video
on this panel. That's not normal in the industry. Usually, if you get a 100-watt panel you can expect to get 70 percent out of it. You know 70 Watts would be like maybe a low-grade panel but if you get a good panel it's really nice if you can see 80 Watts. but Xtar, when they tell you they've got a 100-watt panel or 150-watt panel, that's what they put out. It's funny!
Not like the other companies that test their panels under laboratory conditions and they take the best reading that they get and they tell you that's what you can expect or that's what they're selling it as but that's not what they're putting out.
I'm impressed that they could have put this panel out and called it a 200-watt panel but they didn't. They called it for what it actually does put out. That's a good thing.
The warranty on this is 12 months. Now, these aren't cheap but they're not the most expensive panels either. The price on their website now is 399 dollars and if you use the discount code
"
goneagain
"
you can
get 10% off
.
Here is the unboxing and review video.
Leave a Reply
Your email address will not be published.Required fields are marked. *