By XTARDIRECT |
06
December 2021 |
0
Comments
10 Best Gifts For Outdoorsmen 2021 - XTAR Outdoor Electronics
For many people, it is an indispensable part of a beautiful weekend that wandering ridgelines, gazing at the stars, and enjoying a cup of coffee while admiring the sunrise. Camping, hiking, and other outdoor ventures bring friends and family together and create many unforgettable memories. This is why outdoor gear is such a wonderful holiday gift. It not only enhances people's outdoor experience but also encourages them to look forward to sunny days, cozy campfires, and delicious camping food.
As Christmas is approaching, are you looking for the perfect gifts for the outdoorsmen on your list? Well, you are lucky. Below we prepared a best gift guide list. This is not related to some mixed products, but to the outdoor electronics and power supply accessories, from foldable solar panels, flashlights to battery chargers. All of them have been tested in real wildlife conditions, and are popular among outdoor enthusiasts.
We believe that you will find the right things here and add them to your holiday shopping list!
Portable Power Source For Campers and RV Owners
XTAR SP100 Portable Solar Panel
XTAR is known for its high quality, so you don
'
t need to doubt whether it is worthy to buy. The SP100 specifications are as follows:
* Peak power 100W
* Power voltage 17.6V, power current 6.25A
* Cell efficiency
21.5%-23.7%
* Weight 4.4KG
* Folded dimensions 24.4 x 21.1 x 1.2 inches
* Output with DC7909 (8mm)
* Output with XTAR EU4S, 1*PD3.0, 1*QC3.0, 2*USB 2.4A
It is a 100W solar panel, but after several tests, it was found to deliver 110 watts of power, which is higher than some other similar solar panels on the market. It has two adjustable kickstands for campers to place the panel at an optimal angle, so that it can generate more power.
The panel has great portability. It can be connected to an XTAR multiple charging hub (EU4S) to safely charge 4 devices at the same time.
With a decent price and great reviews, it is a great investment for frequent campers who want high-quality, reliable equipment to produce solar power.
Price: $269.9
Buy now with Up To $60 OFF
XTAR Power Supply 678W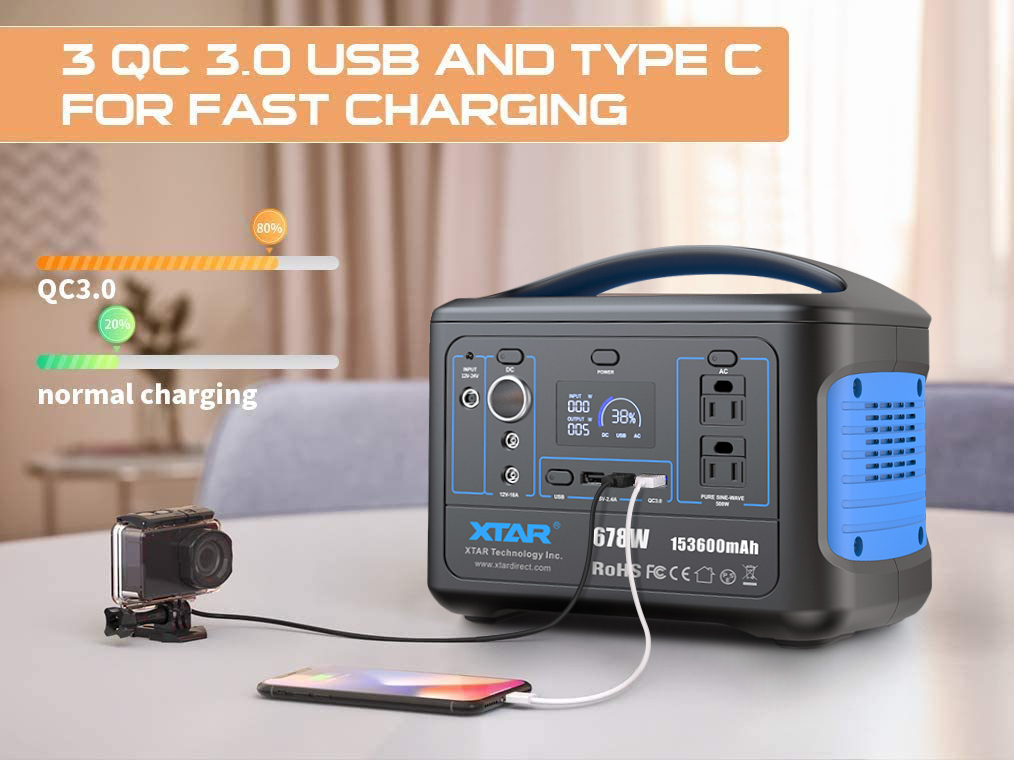 It is a lightweight, lithium-ion power station that is perfect for weekend camping trips. Its capacity is 568Wh, equal to 153600mAh, 8 output ports.
* 2x AC 500W Pure Sine wave
* 2x USB-A 5V~2.4A 10W
* 1x USB~A QC3.0 18W
* 1x DC Car output 12V~10A 120W
It can charge your iPads, smartphones, cameras, small fans, mini car refrigerators, and other small cooking gear. Max 100W of input, with a DC7909 (8mm) charging cable. It can be fully charged in around 6.5 hours. Recharge in four ways - AC, DC, solar panel, generator. So it can be charged at home or connected to solar panels in RV camping.
Price: $369
Get it in a limited time
Flashlight For Outdoors and Survival Preparedness
For outdoor enthusiasts, a flashlight is one of the most important tools. Not only can it illuminate in the dark, but it can also be used as a signal indicator to remind people where you are. Use strobe mode or turbo mode, it can even scare away potentially threatening wild animals. Flashlights are different in size, function, operation, etc. XTAR has two flashlights that can complement each other and can be used in multiple scenarios.
XTAR T1 Mini Keychain Light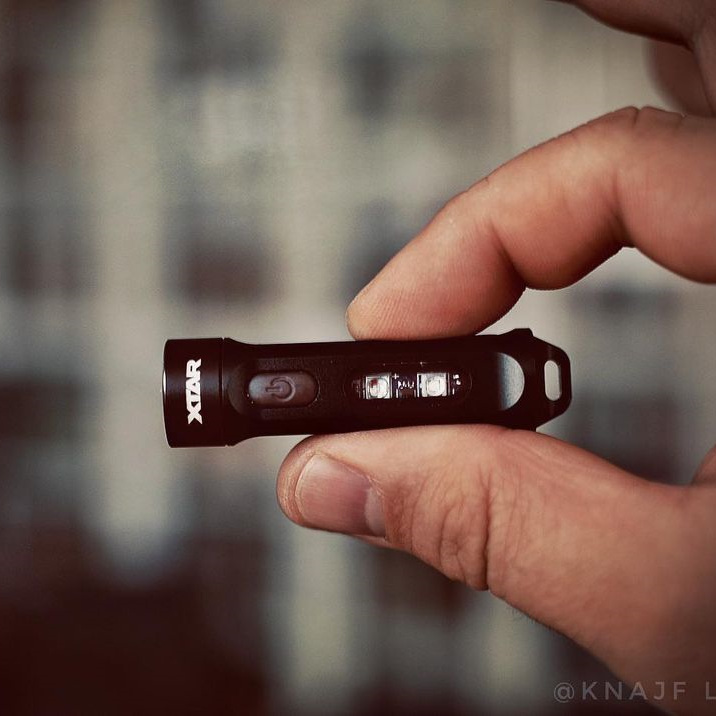 XTAR T1 is only 5.8cm in length, the size of an AA battery. But it reaches 500lm in brightness. Besides white light color, it also has red, blue, green, and UV light. The USB-C input and built-in rechargeable Lipo battery make it easy to be recharged. With it hanging in your keychain, you can use it to make signals at camping night, find out scorpions and animal traces in the wild.
Price: $35.90
XTAR R30 1200 Rechargeable Flashlight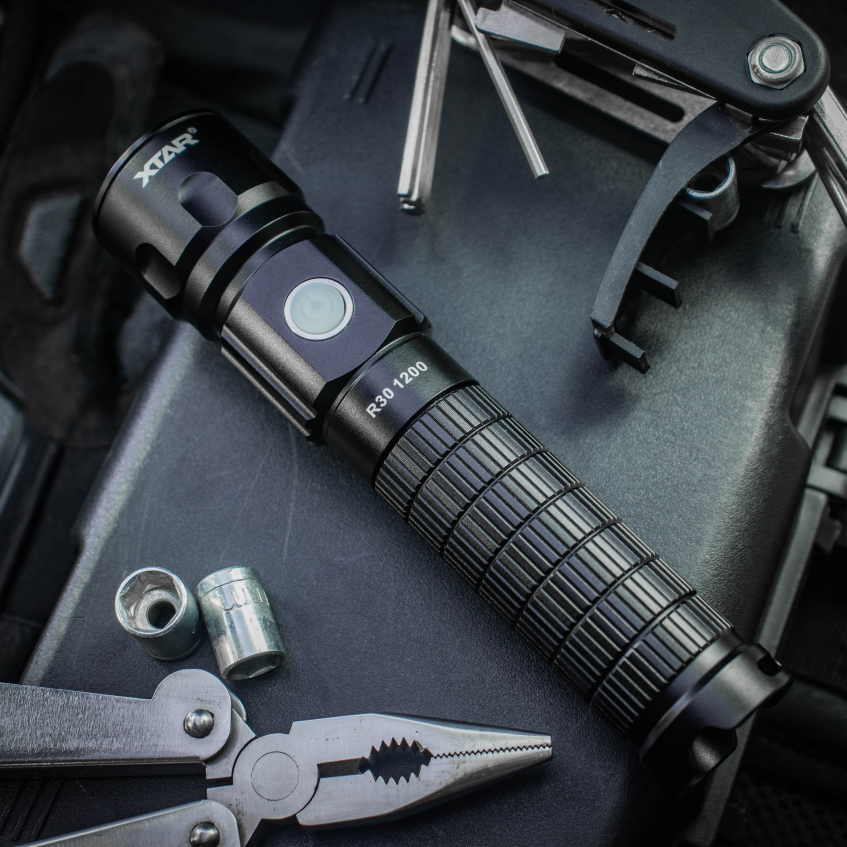 XTAR R30 1200 is a multi-purpose flashlight, suitable for backpacking, caving, hiking, camping, and emergency preparedness. Compared with other flashlights, it has:
*USB-C rechargeable
*Powered by removable 21700 battery
* Max brightness 1200lm, runtime 2.6 hours
* Can be used as a portable power bank
It is 158mm in length and 148g in net weight, very convenient to carry out. Four lighting levels and press switch, easy to operate. The hidden strobe and SOS mode will help you a lot when you are in an emergency situation.
Price: $65.90
Battery Chargers For Outdoor Power Supply

XTAR VC4SL 4-Slot Charger & Battery Analyzer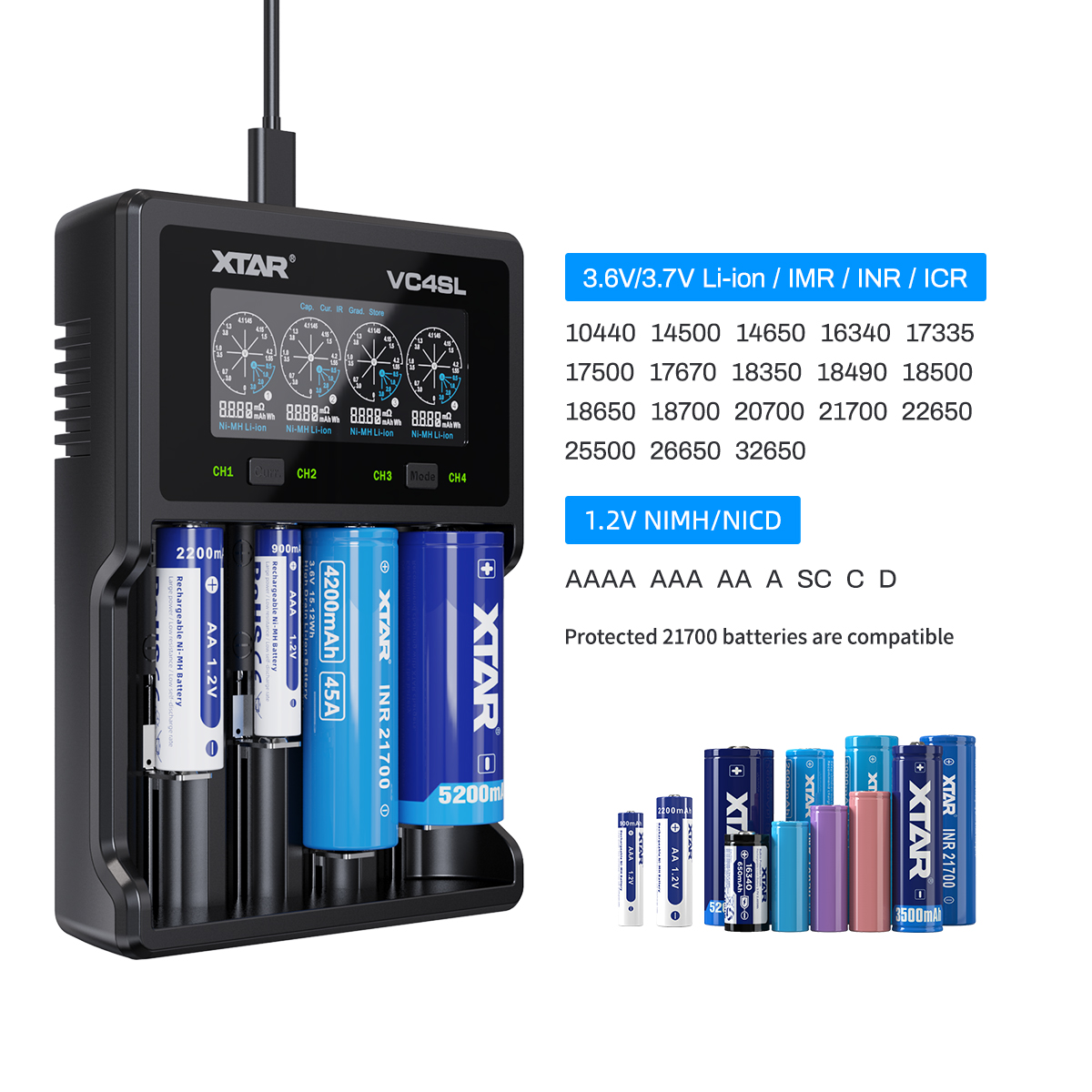 XTAR VC4SL was the upgrade version of the VC4S. It can charge 3.6/3.7V Li-ion and 1.2V Ni-MH batteries, including the protected 21700 batteries. With it, you can:
* Fast charging with max 3A charging current
* Test & analyze the real battery capacity
* Adjust battery voltage to the best storage status
* Revive most of the dead batteries (over-discharged)
Every slot is independently charged. You can also control the charging current by yourself from 0.25A to 3A. A quality LCD screen clearly displays the charging status. USB-C port makes it can be used anywhere. High precision auto cut-off when fully charged. Multiple built-in protections ensure charging safety. This smart charger can also be connected with portable solar panels.
Price only $29.90
XTAR PB2S 2-In-1 Battery Charger & Power Bank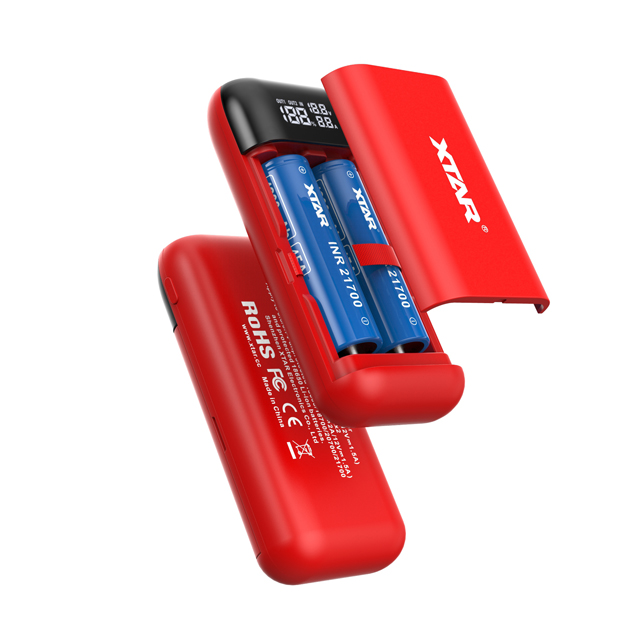 XTAR PB2S is very popular among outdoorsmen, vapers, and EDC gear lovers based on its creative design. It is not only a battery charger but also a power bank. It has two bays, and can fast charge the common 18650 and 21700 batteries with a max 2A charging current. Two output ports make sure to charge two of your devices at the same time. It can not only charge your smartphones, flashlights but also charge your Bluetooth earphones. The capacity of this PB2S power bank can be DIY as your will. For example, you can use two 18650 2600mAh batteries to make it to 5200mAh or use two 21700 5000mAh batteries to get the big capacity of 10,000mAh.
Price only $23.90
XTAR SC2 2-Slot 18650 & 21700 Fast Charger
XTAR SC2 is a basic charger for 18650, 21700, and 26650 batteries, including the protected 21700s. Extreme compact size with two bays. Fast charging with max 3A for a single slot and 2A for two slots. Intelligent adapting identification. Easy-to-read LED indicator for you to know the charging status. As the XTAR classic charger, it can also revive the over-discharged batteries automatically. Very suitable for outdoor backpacking.
Price only $10.99
XTAR EU4S Multi-Charging Hub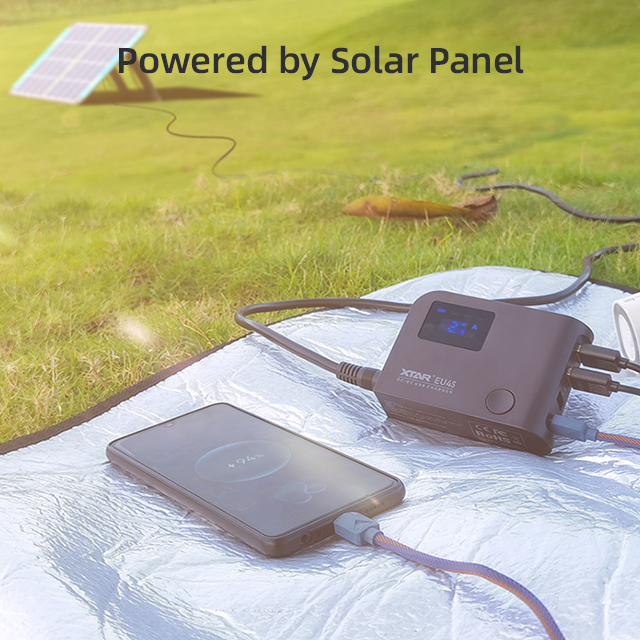 XTAR EU4S is mainly used on solar panels and in cars. Connected to the solar panel, you can charge your devices directly and safely. It charges 4 devices at the same time, with one QC3.0 18W port, two 5V 2.4A ports, and one USB-C PD3.0 45W port. A small charging hub, but very useful.
Price: $39.90
Camera Battery Power Supply For Adventures & Travels

XTAR SN4 7-In-1 Multiple Camera Battery Charger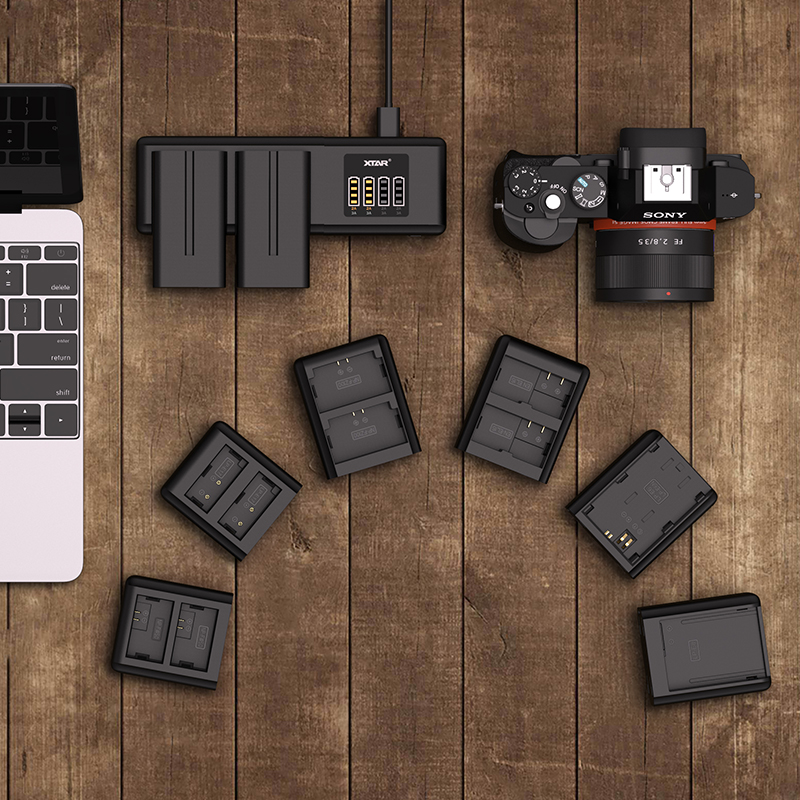 XTAR SN4 is an innovative camera battery charger. It uses a modular docking station. Currently, it supports 9 different battery models. You can mix and match batteries from Canon, Nikon, and Sony. In the future, it will support more types of cameras. With a QC3.0 adapter, it can reach a max 3A charging current for a single slot, 4 times faster than other chargers on the market. It charges 4 batteries at the same time, no need to wait for a long time.
Price start at $10.00
Flashlights For Diving & Underwater Photography

XTAR D26 1600 Dive Light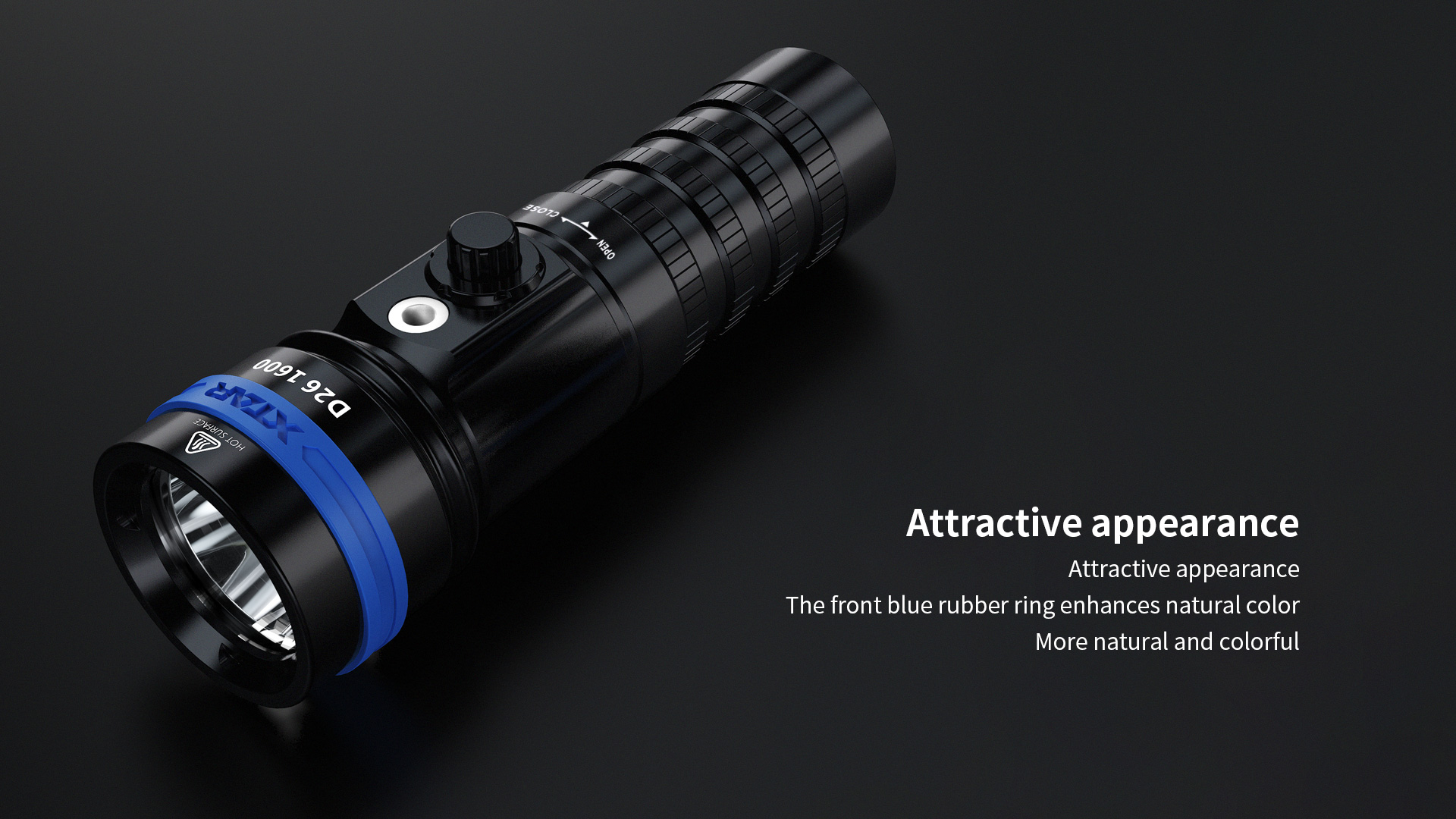 If you are also a diver, a good dive light is needed. There are different kinds of diving according to the diving ways and the different equipment used. But no matter what type, you need to carry a flashlight to ensure your underwater safety. XTAR D26 1600 is such a flashlight that can be used as both primary light and backup light.
Max 1600lm output, runtime 2.48 hours. Cree XHP35-HI D4 LED, high light efficiency. 55-degree visible angle brings you a broader view, enables you to see more underwater marine life, which is also much safer when you are fishing and diving. Its waterproof is rated as IPX8 underwater 100m. A LED indicator shows the power status of the flashlight.
Price: $97.90
Leave a Reply
Your email address will not be published.Required fields are marked. *